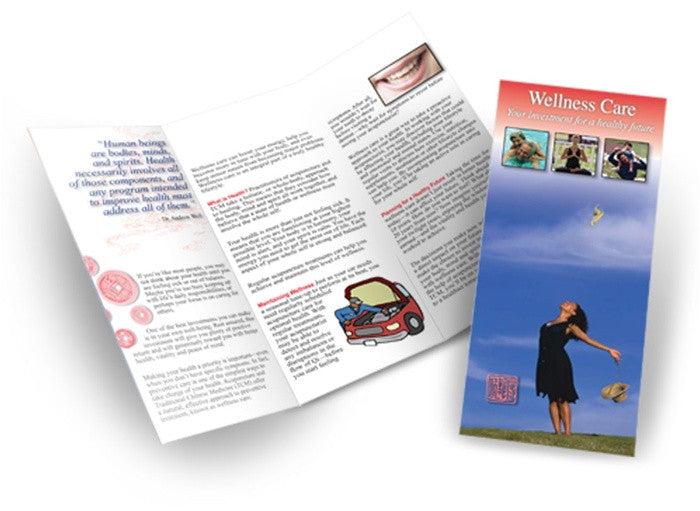 ---
8 1/2 x 11 full color brochures. Pack of 50.
The Wellness brochure is the perfect brochure to plant the seeds of long-term wellness care. It effectively illustrates what wellness care is and why a patient should adopt it into their health care protocol.
After an initial series of acupuncture visits, once your patient has progressed from the acute phase of care and beyond corrective care, this is the perfect time to present them with our Wellness Care brochure.
This brochure clearly and easily creates a deep understanding of prolonged health maintenance under your health care guidance, and it will keep your patients coming back to time and time again; in addition, our Wellness Care brochure is an excellent way to generate referral patients!
There is a space on the back flap for you to personalize using a stamp, business card or label.Attractive, full-sized brochures. Set of 50.

Our 'Wellness' brochure is the perfect catalyst to nurture the idea of enduring wellness care. It proficiently depicts what wellness care involves and the reasons for integrating it into one's health care regimen.

Following an initial set of acupuncture sessions, as your patient transitions from the acute care phase and navigates beyond corrective care, that's the ideal moment to introduce them to our Wellness Care brochure.

This brochure effectively fosters an in-depth understanding of sustained health maintenance under your guidance, encouraging patients to continually seek your services. Moreover, our Wellness Care brochure serves as an exceptional tool for generating referral patients!

A dedicated space on the back flap allows for personal customization using a stamp, business card, or label.
---
Share this Product
---
More from this category