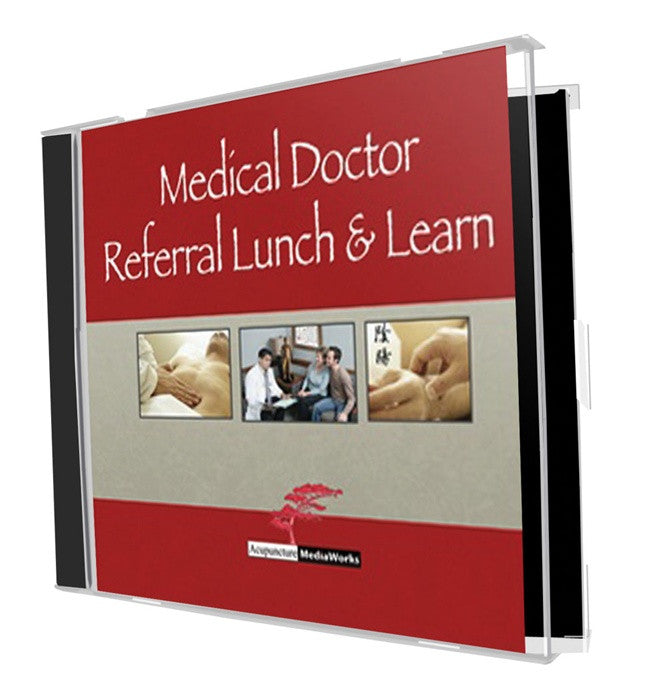 MD Referral Lunch & Learn Powerpoint Presentation
---
SOFTWARE IS NON-REFUNDABLE.
Click here
to review our return policy before purchasing.
NOW AVAILABLE FOR DOWNLOAD!
Preview (compressed to 30 seconds):
---
Networking with local MD's is one of the greatest ways to attract new patients to your practice. MD's see a lot of patients, and sometimes they don't get the clinical results they are looking for. When this happens, they will be looking to refer to another type of health care provider. Let that health care provider be you.

Establishing a referral network with medical doctors and other practitioners is one of the best things you can do for your practice because:
Referral networks require small amounts of money to get started

These relationships are ongoing and can last for years and years

You become the "go-to" acupuncturist in your area

You build trust with the MD/Practitioner who is referring to you
With our MD Referral Lunch & Learn PowerPoint Presentation we have made it easier than ever for you to network with local MD's and open up referral streams of new patients. This PowerPoint presentation has 24 full-color slides that can help you create and deliver a clear, succinct and to the point presentation.
This is a 10 minute PowerPoint presentation designed for you to present to an MD and his or her staff. Here's a simple list of to-dos to help you connect with local MD's:
Make a list of local MD's. Use the internet, yellow pages, and ask your patients who their primary care provider is.

Contact with a phone call or letter and ask them if you can bring over a free lunch for them and their staff in exchange for introducing yourself and your clinic.

Have the MD Referral Lunch & Learn PowerPoint Presentation installed on your laptop. When you get there with the lunch, show them the MD Referral Lunch & Learn PowerPoint Presentation.

Let them know that you are interested in working with them to help their patients to get well faster and stay healthier longer.

Leave them with your personalized referral pad, business cards and brochures about your clinic.

Follow up with them a week later and ask them if there are any cases that you can help with.

Keep in touch with them on a regular basis.

Refer your difficult cases to them.
This interactive PowerPoint presentation is perfect for:
Talks/Lectures

MD referrals

Lunch & Learn
System requirements are: Microsoft PowerPoint 2000 or newer for PC or MAC.
<embed sample video>
---
Share this Product
---
More from this category